ActionAid Rwanda supports the Ministry of Health's efforts to raise community awareness on COVID-19 prevention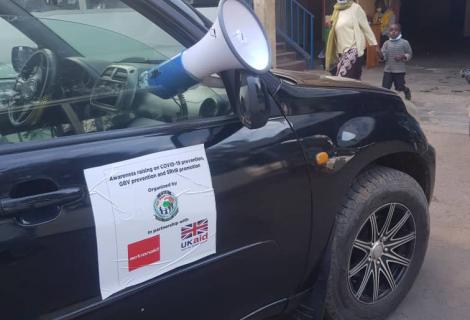 From 14th March 2020 when the first case of COVID-19 was recorded in Rwanda, ActionAid Rwanda (AAR) in partnership with different partners including Faith Victory Association (FVA) and Rwanda Religious Leaders Initiative (RRLI) undertook different community awareness raising activities on COVID-19 prevention including the dissemination of banners and posters with messages on COVID-19 prevention as well as the use of megaphones and radio spots calling for community adherence to COVID-19 prevention measures.
The banners and posters were pinned in all AAR offices, selling points and schools located in the 5 Districts where AAR operates namely Nyanza, Gisagara, Nyaruguru, Musanze and Karongi Districts, while radio spots were aired through community radio stations that reach community members in the 5 Districts. AAR also used megaphones mounted on vehicles which were moving from one District to another, transmitting messages on COVID-19 and GBV prevention.
"The Ministry of Health and other partners has done a good job in raising community awareness on COVID-19 prevention measures. However, behavior change is not a one-off effort, it requires sustained efforts to change people's mindset. It is for that reason that we included community sensitization activities in our COVID-19 response and our efforts are paying off because community members in our operation areas are actively taking personal protective measures to prevent the spread of COVID-19," said Josephine Irene Uwamariya, Country Director, ActionAid Rwanda.