Kwibuka 27: Actionaid Rwanda join Rwandans to commemorate genocide against Tutsi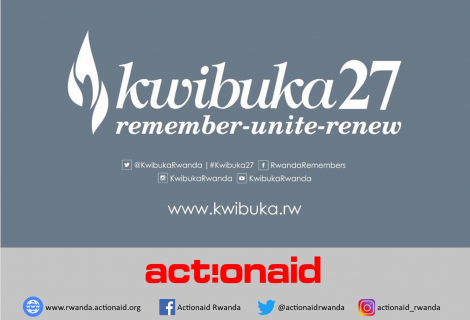 Every year, from 7th April Rwandans start a 100 day commemoration of the genocide against Tutsi in 1994. It has been 27 years since this tragedy in which over one million Tutsis and moderate Hutus lost their lives at the hand of fellow Rwandans, brothers, sisters and neighbors due to politically motivated discriminatory policies.
We Commemorate this tragedy that befell this country as the International community looked on and UNAMIR failing to execute its mandate to protect innocent citizens of Rwanda. This Genocide affected all Rwandans in one way or the other. Some are Victims who survived this brutal butchering, some lost their entire families and others are from families with some members who participated in activities hence have Psycho-social effect of this linkage.  
In her remark, Mrs Josephine Irene UWAMARIYA, the country director of ActionAid Rwanda highlights the importance of commemoration in building a better society.
"we are commemorating this unfortunate Human Rights Violation period. We have moved from total destruction to commendable stage of recovery and development. Kwibuka 27 (commemoration 27) calls all of us to continue upholding Unity, while remembering but rebuilding our society. Upholding rights and ensuring solidarity with all to ensure NEVER AGAIN to Genocide Against Tutsi and against anybody in this world."
ActionAid Rwanda will work half days for a week from 7th until 13th April when the National Commemoration will be concluded. However, the Commemoration continues for 100 days until 4 July when the Genocide was ended.
Fight Genocide Denial and Demeaning the Genocide Against Tutsi of 1994.
The theme for this year is Remember-Unite-Renew