Breaking the Silence through Speak Out! Project to address SRHR and GBV in Rwanda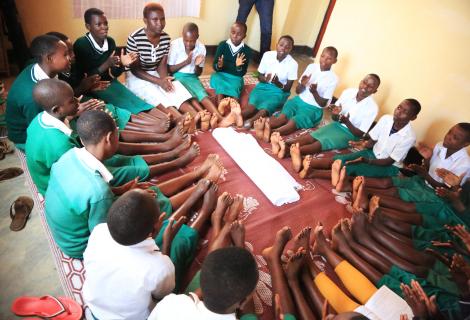 Giving Women and Girls a Voice to overcome Sexual and Gender Based Violence
One of the challenges faced in several communities across Rwanda is the culture of silence whereby people, especially women and girls, are afraid to speak out or report incidences of violence they fall victim to.
Through empowering people to not only know their rights but also report cases, Speak Out! Project works towards addressing Sexual Reproductive and Health Rights (SRHR) and Gender Based Violence(GBV) in Rwanda.
According to Marie Frederick Kantarama, who coordinates three parents' clubs in Gisagara district, there's need to break the culture of silence and empower people to be able to boldly speak out and tell the truth. She noted that among the parents she meets with, it was very hard for them to speak out but through the several trainings they hold, the situation is changing.
"We had so many cases of teenage pregnancies and defilement in this area, but girls and their parents were afraid to speak and report those who abuse the young girls. Most girls and their parents weren't even aware that they hard rights and laws protecting them but now they are learning and coming out to report offenders, and seeking support for victims," she stated.
Kantarama says that they tackle several topics in their trainings that include girls and women rights, challenges faced by adolescents and how to deal with them, and generally about SRHR and GBV.
Mukamusoni whose real names are withheld on request, a resident of Ruheru sector who was a victim of abuse for over 7 years of her marriage. The husband would always come back home drunk and beat her up, causing bruises on her body.
"I have suffered a lot of abuse from my husband. A week wouldn't go by without him beating me up and hurling all sorts of insults at me. I was always nursing wounds and heartaches. I was afraid to report him because I felt like he owned me and can do whatever he wants with me. I was also afraid that if I reported him, he would chase me, and I would have no where to seek refuge. I was afraid people would laugh at me. I was empowered with knowledge on GBV through Speak Out project. Now I know my rights and can't accept to be harassed anymore. I am no longer ashamed, and I always counsel other women going through the same to speak out, report to authorities and seek help," she recounted.
Mukamusoni is now an agent of change in her community who reaches out to other women who are victims of abuse. She is passing on the knowledge on rights to other women and supporting other victims to speak out.
Christine Mukankusi, a teacher by Profession cited that many people decide to keep silent while going through issues of violence and abuse.
"The situation is changing now. People are kicking the culture of silence away and these days we hear more women and girls speaking out when faced with cases of abuse. We hope that this project continues to empower more people, so we can overcome sexual abuse and gender-based violence," she added.
Speak Out! project aims at increasing girls' confidence and knowledge of their rights, ability to claim their rights, take control over their bodies and make their own decisions. The project is being implemented by ActionAid Rwanda (AAR) in partnership with Faith Victory Association and Association des Guides du Rwanda in four districts which include Nyanza, Karongi, Gisagara and Nyaruguru.
The project targets 5,600 young school girls between 9-18 years of which 4% are girls with disabilities. It also includes 14 women's rights organizations of which are two that represent women and girls with disability. Speak Out! project is funded with UK Aid from the UK Government.
ABOUT THE AUTHOR
ABOUT THE AUTHOR