Unable to sell her avocados, Ernestine is now relying on food support to feed her daughters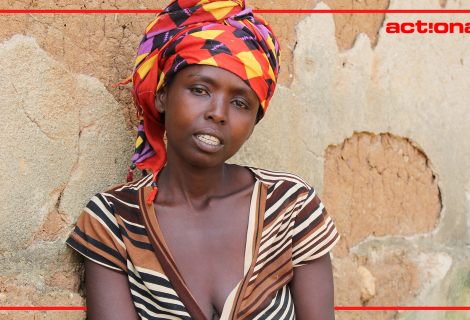 Ernestine Mukandoli, 39, is a single mother of two girls of ten and one, living in the Nyanza District of Southern Province, Rwanda.
Before the Covid-19 outbreak, Ernestine was a fruit vendor at a prison located near her home, making a profit of about 1,000 Rwandan Francs (approx. US$1) a day. Ernestine's daily income covered her family's basic needs, they did not go to bed hungry and her daughter was able to attend school.
Their life has become harder since the first case of Covid-19 was registered in Rwanda back in March 2020. The government imposed new measures, limiting the movement of people countrywide and small businesses and informal workers, like Ernestine, lost their livelihoods overnight.
"Since the Covid-19 outbreak in Rwanda, the prison's administration limited the number of visitors and instructed a suspension of individuals selling fruits to the prison's canteen until further notice," says Ernestine.
The restriction of movement has forced Ernestine to seek casual, irregular work at neighbouring farms, earning 800 Rwandan Francs (approx. US$ 0.8) for a day's work.
"The challenge I'm facing now is that we are in the dry season and farming activities are limited, so it is very hard to find a casual work on someone's farm. I can spend a whole week without getting someone to hire me," Ernestine adds.
"It has been four months now that I am prohibited from selling avocados, [to the prison] I impatiently look forward to the permission to resume my small business," Ernestine adds.
The government of Rwanda, in collaboration with its development partners, is supporting the most vulnerable families with basic needs like food and hygiene supplies. Ernestine's was amongst the 1,200 families who received food support, distributed by ActionAid Rwanda as part of the emergency response to Covid-19.
"You can't imagine how relieved I felt to be able to have at least two meals a day for my daughters. ActionAid's food assistance has helped me save my wage from the casual work and I've been able to rent a small piece of land where I grow my own potatoes and vegetables that my family is now relying on, as the government steps into reopening businesses," says Ernestine.
"We thought that Covid-19 would be over soon for us to go back to normalcy. I now fear that it will stay longer than expected. I do not really know how our life will look like if it takes long, because it is very hard to live in these bad conditions," Ernestine says.
In Ernestine's district of Mukingo, ActionAid Rwanda and partners are using local radio and the megaphones to raise awareness about how to prevent the spread of Covid-19. 
Due to the 40 days of total country lockdown in Rwanda from 21st March to 2nd May 2020, many businesses were heavily impacted. Though restrictions have now eased, many  small businesses remain closed. As a result of Covid-19 effects on the labour market, the unemployment rate in Rwanda increased from 13% in February to 22% in May 2020, according to a survey of the National Institute of Statistics of Rwanda, with 25% of women and 19.6% of men being unemployed in May 2020.