AAR launches climate justice campaign during IRWD celebrations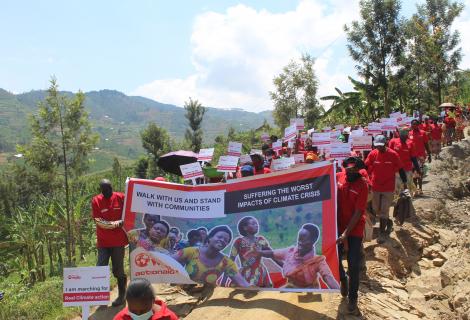 ActionAid Rwanda joins Rwandans and world in general on this Friday 15th October 2021 to celebrate the International Women's Day that was established by UN General Assembly as an effort to recognize the critical role and contribution of rural women, including indigenous women, in enhancing agricultural and rural development, improving food security and eradicating rural poverty.
The celebrations were coincided with the launch, at national level, of ActionAid global campaign on climate justice, Earthwalk: For the People, For the Planet; the campaign that will run until 31st October 2021. ActionAid combined both activities as an awareness to recognize how rural women are disproportionately impacted by the climate crisis but are at the same time powerful agents for climate justice.
ActionAid staff, partners, local administration, government leaders and community in Gitesi Local Right Program located in Karongi District, Western Province of Rwanda planted 15,000 trees that can be mixed with other crops and 1500 trees that produce edible fruits.
The Mayor of Karongi District, Vestine MUKARUTESI, told rural women that they should look after the trees as an initiative to protect them against climate crisis.
"Today, as we celebrate International Rural Women's Day, it is time to look at where we came from, and where we are now, but to look more closely at where we want to be. We have a tremendous achievement, but we didn't get to where we wanted to be. The activities that are happening today show us that we continue to move forward and have a better future. There are trees planted that will help us get fresh air to breathe, but they will also protect us from erosion and help us to improve our agriculture. There are also edible trees, you know it is a pledge for every household to have at least three trees that produce edible fruits to fight against malnutrition ..., As women, we should feel empowered and keep up the pace of development because when a woman thrives, so does the home." Said Mayor Vestine.
After planting trees, ActionAid Rwanda officially launches the climate justice campaign that was initiated by walk against climate injustice. Over 400 residents were mobilized on how they should contribute in climate protection as their contribution in environment protection and then were involved in the 1km walk that was aiming at calling for world leaders to take real climate action.
Josephine Irene Uwamariya, Country Director of ActionAid Rwanda commends rural women for their achievement in implementation of measures to curb the spread of COVID-19, as the national theme state states: "Women, be at the forefront in a COVID19 World."
"Today we are also officially launching climate justice campaign dubbed EarthWalk: For the People, for the Planet, that is why we have together planted trees that produce edible fruits and other trees that can be mixed with the crops and help in preventing erosion. All these efforts are to protect our land and to cope with climate change so that our agriculture produces better and more efficient crops." Said Josephine.
"We also link this climate justice campaign with the celebration of World Food Day that is celebrated on 16/10/2021. They are very much interlinked as one of the main objective of the EarthWalk campaign is to fight against climate change and it's effects on the production of agriculture which is vital for the human being to live." Added Josephine.
In 2020, ActionAid Federation initiated a Global March for Change called "Walk For Survival". ActionAid Rwanda like other members of federation, joined over 4,000 people from 44 countries who joined the Walk for Survival to demand a feminist, just, and more equal post-COVID world.
This year, ActionAid Walk is focusing on the Earth Walk calling for climate justice for women and their communities living in the front lines of the climate crisis, and demand that the voices of these communities are heard at UN climate change conference - COP26.