ActionAid Rwanda supported families affected by Nyiragongo eruption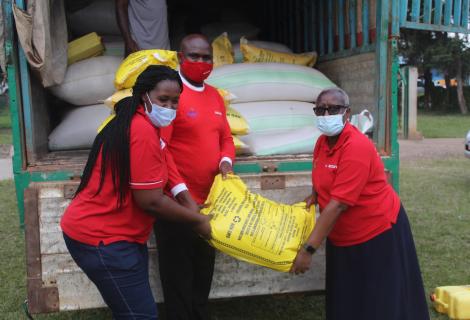 Late on Saturday 22 May 2021, the news went viral that Nyiragongo volcano in eastern Democratic Republic of Congo, one of the world's most active volcanoes, erupted, sending panicked residents of the nearby city of Goma fleeing to different parts including Rubavu District/ Western part of Rwanda.
The eruption did not last long. However, the aftermath earthquake and tremors have so far demolished more than 2000 buildings in Rubavu border town leaving others with cracks. Families have ever since been homeless, sleeping in the open air without basic needs like foods and blankets.
On 30th May 2021, ActionAid Rwanda supported families affected by Nyiragongo volcano eruption in Rubavu District with emergency support mainly food, hygienic materials and clothes.
ActionAid Rwanda gets in solidarity with affected families by providing dry food (Rice, maize flour, Beans, cooking oil & biscuits), nutritious Porridge for family (Sosoma), hygiene materials (Sanitary Pads, soap), blankets, Home Utensils, clothes (Kitenge for women and girls and sweaters for children).
Josephine Irene UWAMARIYA, the Country Director of ActionAid Rwanda said that it is AAR's mandate to bring emergency support to such affected families adding that this situation needs more attention.
"No wonder, the earthquake left these families hopeless; their belongings perished when houses collapsed. You can also imagine how vulnerable are the children who sleep outside. They need quite much attention," said Josephine.
"All this would not have happened without a good management of the government. I really appreciate the Rwandan Ministry in Charge of Emergency Management for the perfect coordination and their commitment to provide humanitarian assistance to affected families. These people lost much of their properties. There was a need of strong recovery mechanism." added Josephine.
In Rubavu town, a long fissure can be seen in the ground crossing residential houses, shops and one road leading to the border with DR Congo.
After the destruction of their homes by earthquake and tremors following Nyiragongo eruption, hundreds of Rwandans living in Rubavu District have been forced to flee, crossing into other surrounding places in search of safety. According to the Ministry in Charge of Emergency Management, there is a need of further help to reach more affected families and the recovery.