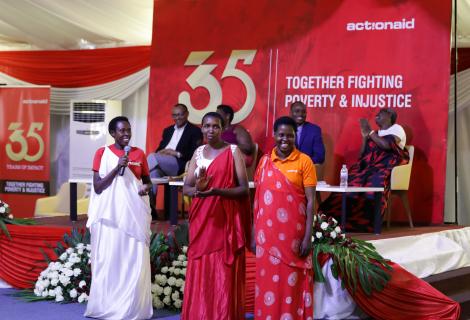 ActionAid Rwanda Newsletter,January-May,2018
Downloads
Welcome to another issue of the AA Rwanda Newsletter! We ended the year with lots of activities and began a new one too swamped with huge milestones as well.
A few months ago, we celebrated 35 years of impact in Rwanda and launched our new Country Strategic Paper 11 under the theme, "Transformative Development Based on Rights and Dignity-Together for social justice." ActionAid Rwanda will ensure coherence in the implementation of two key priorities in this strategy guided by the 3Rs that include rights, resilience and redistribution, in alignment to the global strategy and national priorities, to achieve social justice and transformative development geared to Rwanda's aspirations.
 This issue highlights numerous gripping stories of AAR's work together with its partners. As you flip pages, you will find stories about the many visits we have been hosting,the public dialogues held to encourage citizen participation and get their views on several pressing issues,the community scorecard that holds leaders accountable and many more. Enjoy reading!